Vladimir Ivanoff:

Miserere (New Recording)

Audio samples
1 miserere mei
4 tibi soli
8 cor mundum
9 Danza
13 tunc imponent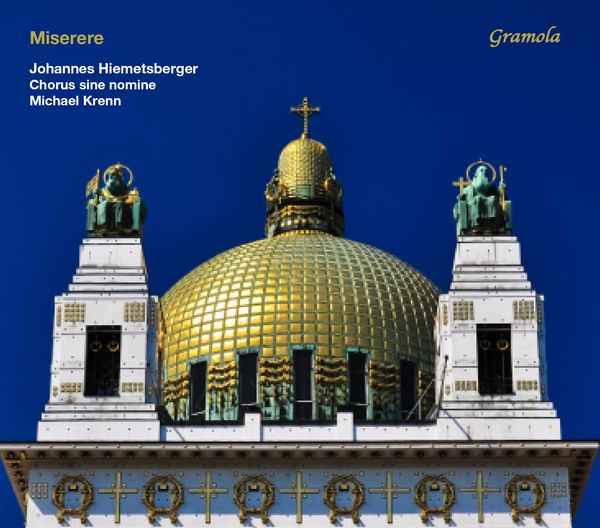 Vladimir Ivanoff's conceptual arrangement of Gregorio Allegri's famous "Miserere" is a favorite with choirs since two decades and has been featured in the soundtracks of several Hollywood movies. Now a new recording with choir & saxophone:
Miserere
Gregorio Allegri / Vladimir Ivanoff
CSN / Hiemetsberger / Krenn

Hybrid SACD: the technically best possible sound quality at the moment.
Order the CD or download: after you place your order, you'll immediately receive a mail with the link for download of the tracks in high mp3 quality, lossless FLAC or CD quality WAV files, with a booklet (lyrics & translations).
Miserere
Wilhelm Reich, a pioneer of new thinking and an unmatched model for free, creative, interdisciplinary and universal research, who overcame the restrictions of academism, deliberately accepting the tragic personal consequences of it, was not the only great intellect to pose the question: who is mad? Normal people or so-called 'lunatics'? After renouncing Sigmund Freud, Reich not only became a persona non grata in Vienna, but also experienced himself the mercilessness of the bourgeoisie seeking to protect itself from the pure truth. Otto Wagner, Vienna's grand master of the architecture of Art Nouveau, had the good fortune that in his case verdict was passed on building projects and not on the therapy of the human being and the origin of human life. He loved ornamentation, as long as it was placed in the service of functionality and not the vain pomp of bygone eras. As a visionary herald of New Objectivity, he was a thorn in the emperor's side and that of the court hierarchy, but thanks to his artistic persistence he was entrusted with constructing the Vienna Stadtbahn (suburban railway), and today the metropolis on the Danube would be inconceivable without his achievement. However, the culmination of his lifetime's work was to be the church at Steinhof, on the premises of the mental hospital. You have for time immemorial always have had to be mad to realize visions beyond what is known, and such a church space, transcending all conditions, was only tolerated for lunatics and those outcast from society. Today, the church at Steinhof is a place of pilgrimage for all those who want to undergo the meditative experience of a truly cultic and artistically unique refuge of balance and tranquillity. This church edifice with its golden dome gleaming into the distance even transcends the cultural horizon of the Christian community, such as the Bulgarian master of intercultural musical meetings, Vladimir Ivanoff, made it into his mission in life in the area of tension between Christian, Islamic and Jewish traditions over the centuries. He was never concerned with an exotic spectacle for the educated voyeur, but always with the subtle fusions and contrasts of styles, with the emancipation of tradition and with the magic leap in time. Amongst all the settings of craving for the Lord's grace, Gregorio Allegri's Miserere is the most famous one and, at the same time, the one that was deliberately disguised in the cloak of mystery. Since the inhuman project of the Inquisition had failed, there was no more dreaded punishment by the clergy than that of excommunication, and this Damocles' sword threatened all those who bore the music of Allegri's Miserere over the walls of the Vatican and out into the world. When this happened, nonetheless - and it is recorded in a letter by Mozart's father Leopold that Wolfgang Amadeus wrote down the work after hearing it once in the Sixtine Chapel - the mysterious Miserere was published by Charles Burney in Great Britain, in an enlightened place that had long escaped from the tentacles of the Pope. The original Miserere, the fundamental composition, is of archaic simplicity, and the Sixtine Chapel singers were famous for their magnificent embellishments of the upper voice, which this first publication denied us. Hence, the composition, which was also played at Ludwig van Beethoven's funeral in Vienna, has always formed a legitimate starting point for creative development. The young saxophonist Michael Krenn resurrects the tradition of embellishment in the most subtle way, and his both smoothly gentle and subduedly ecstatic, spontaneous counterpoints may remind many listeners of a muezzin's calls to prayer in their lyrical ardency. A new intercultural space emerges, including whispering, listening into silence, drumming, rejoicing, to the blossoming of pure sound in the Chorus sine nomine, above which the saxophone makes its melodic way like a reflection of the Orient in the enormous dome of the church. Here, the aesthetic wheel has come full circle, occidental verticals and oriental horizontals meet, as do polyphonic harmony and melos freed from the restrictions of beat, present and genesis. From a clear structure of timeless beauty, the ornament grows, like in Otto Wagner's architecture, in the world of music, beyond the everyday madness of normality.
Christoph Schlüren
1 miserere mei 4:35
2 et secundum 2:20
3 amplius 4:43
4 tibi soli 3:55
5 ecce enim 9:13
6 asperges me 3:26
7 averte faciem 0:22
8 cor mundum 5:38
9 Danza 4:51
10 quoniam si voluisses 2:55
11 tunc acceptabis 1:52
12 Sofferenza 0:26
13 tunc imponent 2:54
* incl. Vat, excl. shipping